Because our personal coloring changes as we mature, many women find that some of their beloved cosmetic colors they have been wearing for years, seem to no longer be working for them.
I will be posting Mary Kay cosmetic suggestions for all 12 seasons. I will do my best to post colors for light, medium, and dark skin tones.
This first one is for the True Autumn woman.
If you have been wearing colors like Downtown Brown, Gingerbread, or Toffee and find they seem a bit dark or blah, try the brighter/lighter colors below the arrow to give you a more youthful appearance.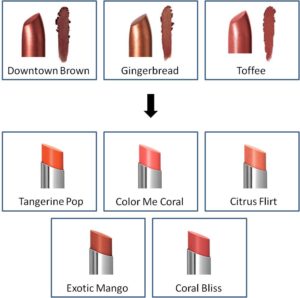 Tip: If you want to change a lip color slightly, rather than mixing it with another lip color, just line your lips and fill them in with Spiced Tea lip liner. It also helps the lipstick last longer.
If you have been wearing blushes like the colors on the left, try the color options to the right of the arrows.
Again, because each True Autumn is unique, these color suggestions may not work on every True Autumn. Try the colors to see what works for you.